Roggenbuck Census data 1900 Lac Qui Parle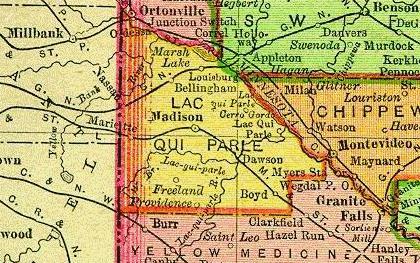 Map from 1895
| | | | | |
| --- | --- | --- | --- | --- |
| Perry Township | | | | |
| | | born | to USA | Notes |
| Roggenbuck | Peter | 1841 | 1881 | |
| | Teresa Spors | 1841 | 1881 | |
| | Paul | 1875 | | |
| | Antonia | 1879 | | |
| | Anny | 1880 | | |
| | Eda/Ida | 1883 | | |
| | Johney | 1887 | | |
| | | | | |
| Walter Township | | | | |
| | | | | |
| Roggenbuck | Peter R | 1856 | 1882 | * |
| | Marie Kanthak | 1863 | 1882 | |
| | Martha | 1886 | | |
| | Mathilda | 1891 | | |
| | Albert | 1893 | | |
| | Frances | 1896 | | |
| | Amanda | 1898 | | |
| | | | | |
| Roggenbuck | Albert | 1866 | 1891 | ** |
| | Maria Semrau | 1869 | 1888 | |
| | John | 1894 | | |
| | Albert | 1896 | | |
| | Joseph | 1899 | | |
| | | | | |
| Roggenbuck | Franz | 1872 | 1889 | |
| | Agatha Spors | 1875 | 1894 | |
| | Bernhard | 1895 | | |
| | Anna | 1896 | | |
| | Margareth | 1898 | | |
| Uncle | Andrew | 1835 | 1900 | |
| Aunt | Susanna | 1837 | 1900 | |
| Cousin | Ursula | 1879 | 1900 | |
| | | | | |
| Roggenbuck | Peter M. | 1860 | 1884 | |
| | Sadie | 1869 | 1889 | |
| | John | 1891 | | |
| | Joseph | 1893 | | |
| | George | 1895 | | |
| | Peter M. | 1897 | | |
| | Louisia | 1900 | | |
| | | | | |
| Roggenbuck | Frank | 1862 | 1883 | |
| | Mary Pillatzke | 1872 | 1892 | |
| | Robert | 1893 | | |
| | Frank | 1894 | | |
| | John | 1897 | | |
| | Anna | 1897 | | |
| | Albert | 1900 | | |
| | | | | |
| Roggenbuck | John | 1860 | 1884 | |
| | Teresa Nitz | 1868 | 1889 | |
| | William | 1892 | | |
| | John | 1894 | | |
| | Frank | 1899 | | |
| | | | | |
| Roggenbuck | Antony | 1861 | 1891 | |
Data was extracted from Census Record by Karen and verified by Ray Karels. Thank you!!
I believe that * and ** Roggenbuck are both children of Krug Peter Roggenbuck and his wife Susanne nee. Spors.
Antonia is not on the census list, but according to the birth records of Floetenstein she is a child of Peter and Teresa.

Anton Roggenbuck is from Eickfier. In the 1900 census he appears as worker on the John Nitz farm.
---


---
Copyright© 1996-2009 Jonny Roggenbuck
Created 04-03-2000
Last revision 20-04-2009