Roggenbuck in Konitz
| | | | | | | | | | | | | |
| --- | --- | --- | --- | --- | --- | --- | --- | --- | --- | --- | --- | --- |
| Konitz/Westpr. | | Konitz/Westpreussen | | Konitz/Westpreussen | | Konitz/Westpreussen | | Tawas/MI/USA | | Canada | | Canada |
| 1770 | | 1800 | | 1825 | | 1855 | | 1885 | | 1915 | | 1940 |
| | | | | | | | | | | | | |
| | | | | | | August Kohn | __ | 10 Children | | | | |
| | | | | | | | oo 1883 in Tawas/Iosco/MI | | | | | | |
| | | | | | | | Anna *1863 | | | | | | |
| | | | | | | | | | | | | | |
| | | | | Gross Konarzyn | | | >> 1885 to USA | | | Adelina *1895 | __ | Children | __ | Phil |
| Roggenbuck | | Albert | __ | Albrecht 1826-1899 | __| | Caroline Helen 1861-1946 | __| | Lawrence | | | | |
| | | Anna Grabowska | | Eva Szyszka*1822-1912 | | Carl M. A. Müller 1856-1922 | | | | | | | |
| | | | | | | oo 1880 Konitz | | | 6 more children | __ | Children | | |
| | | | | | | | | | Miller | | | | |
| | | | | | | | | | | | | | |
| | | | | | | | | | Albert J. * 1900 | | | | |
| | | | | | | | | oo 1924 | | | | |
| | | | | | | | | Gertrude Schauer | | | | |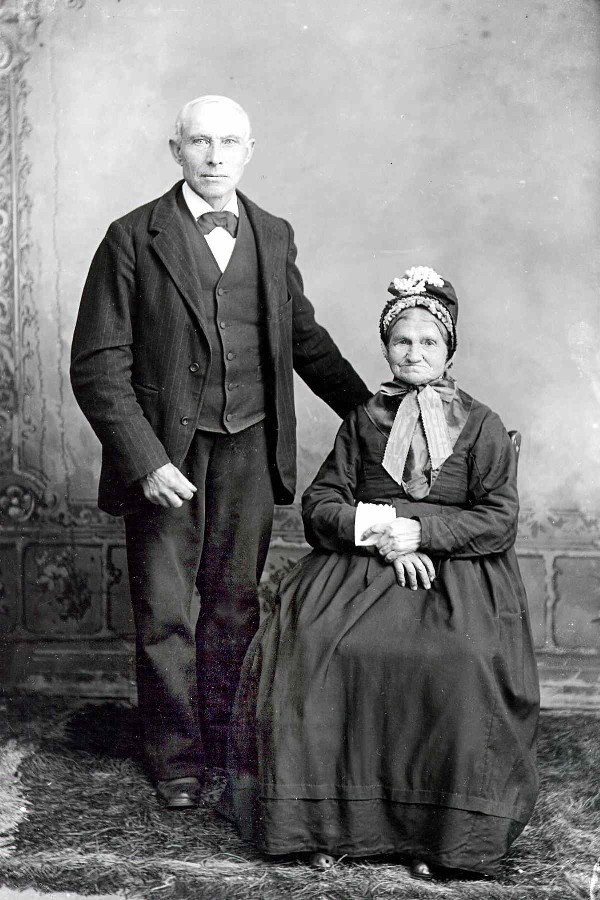 Albert (Adalbert) and Eva Rosina Roggenbuck in around 1898?
With courtesy of Iosco County Historical Society.
Source is private data and Index To Emanuel Lutheran Church Records: 1877-1996
Albert und Eva are buried at EMANUEL LUTHERAN CEMETERY in Tawas City, Iosco County, Michigan/USA
Added wedding date to August Kohn and Anna Roggenbuck.
Added Michael and Eva as parents to Anna
Added from bitsandpieces.html three church book records.
Added above photo
Anna and Caroline are siblings!

Source for Albrechts parents is his death record in Michigan. More see here:
---


---
Copyright© 1996-2010 Jonny Roggenbuck
Created 22-04-2004
Last revision 04-01-2010