Roggenbuck in Konitz (kath. Kirche)
| | | | | | | | | | | |
| --- | --- | --- | --- | --- | --- | --- | --- | --- | --- | --- |
| Kreis Konitz | | Kreis Konitz | | Kreis Schlochau/Konitz | | Kreis Schlochau/Konitz | | kath. Kirche Konitz | | Kreis Konitz |
| 1740 | | 1770 | | 1800 | | 1830 | | 1860 | | 1890 |
| | | | | | | | | | | |
| | | | | | | | | Johann Roggenbuck | __ | Albert Andreas *1887 |
| | | | | | | | | Marie Kujawska | | | |
| | | | | | | | | | | | Rosalia Elisabeth *1888 |
| | | | | | | | | Diese Familie wandert aus! | | |
| | | | | Johann Kanthak | | | | Johann Roggenbuck | __ | Johann Peter *1879 |
| | | | | oo 1827 | | | | Rosalie Schmuck | | |
| | | | | Rosalie Rogge(n)bu(c)k | | | | Richnau | | | Franz Erdmann *1877 |
| | | | | | | | | Albert Roggenbuck *1845 | | | |
| | | | | | | | | oo 1874 Konitz | __| | Martha Anna *1878 |
| | | | | | | Siedzikowski | __ | Rosalie Siedzikowska *1854 | | | |
| | | Steinberg | | | | | | Niesewanz | | | Bernhard Martin *1879 |
| Adam Roggenbuck | __ | Johann 1782-1842 | | | | | | | | | |
| Eva | | oo 1817 | | | | | | | | | Clara Hedwig *1883 |
| | | Caroline Seidler | | | | | | | | |
| | | | | | | | | | | Königlich Neukirch |
| | | | | | | | | | | Joseph Ignaz Zychske *1879 |
| | | | | | | | | | | oo 1905 |
| | | | | | | | | | | | Anna Maria *1879 |
| | | | | | | | | | | | |
| | | | | Lichnau bei Konitz | | | | | | | Maria Martha 1881-1891 |
| | | | | Franz Roggenbuck | __ | Rosemarie *1846 | _? | Rosalie | | | |
| | | | | oo 1842 | | | | | oo 1867 Johann Henning | | | Martha Sophia *1882 |
| | | | | Gertrude Wollschläger | | | Paul Kasimir *1864 | | | | | |
| | | | | | | | | Neukirch | | | Albert Johann 1884-1891 |
| | | | | | | | | Martin Roggenbuck | | | |
| | | | | | | Niesewanz | | oo 1879 | __| | Francisca Auguste *1886 |
| | | | | Franz Tuschkiewicz | __ | Marie Elisabeth 1838-1838 | | Catharina Dombrowski | | | |
| | | | | oo 1837 | | | | | | | Theresia Francisca *1888 |
| | | | | Dorothea Roggenbuk | | | | Joseph Warnke | | |
| | | | | | | | | oo1880 | __ | Carl Joseph *1881 |
| | | | | Niesewanz | | | | Maria Roggenbuck | | | |
| | | | | Michael Tuschkiewicz | | | | | | | Bertha Pauline *1883 |
| | | | | oo 1832 | __| | Anna Rosa *1841 | | | | | |
| | | | | Elisabeth Rog(g)enbuck | | | | | | | | Martha Maria *1884 |
| | | | | | | | Johann *1847 | | | | | |
| | | | | | | | | | | | Agnes Antonia *1889 |
| | | | | | | Joseph Rocinski *1833 | | | | | |
| | | | | | | oo 1861 | | | | | Hedwig Agatha *1890 |
| | | | | | | Susanne Roggenbuck *1838 | | | | | |
| | | | | | | | | | | | Maria Elisabeth *1893 |
| | | | | | | | | | | |
| | | | | | | | | | | | Paul Bernhard *1881 |
| | | | | | | | | | | | oo in Berlin 1908 |
| | | | | | | | | | | | Luise Anna Runge *1883 |
| | | | | | | | | | | | |
| | | | | | | Richnau | | KB Konitz / Richnau | | | Friedrich Albert *1885 |
| | | | | | | Erdmann Roggenbuck | __ | Albert Roggenbuck | | | oo 1911 in Berlin |
| | | | | | | | | oo 1880 | __| | Martha Klara Fride Schulz *1890 |
| | | | | | | | | Theresia Grzankowska | | | |
| | | | | | | | | auch Jankowski | | | Franz Albert *1883 |
| | | | | | | | | | | | oo 1910 in Berlin |
| | | | | | | | | | | | Albertine Ernestine Schewe *1879 |
| | | | | | | | | | | | |
| | | | | | | | | | | | Anna Theresia *1887 |
| | | | | | | Stegers | | USC Konitz / Richnau | | |
| | | | | | | Peter Roggenbuck | __ | Albert *1854 | | |
| | | | | | | Eva Werner | | oo 1889 | __ | Bernhard August *1892 |
| | | | | | | | | Marianne Lukowitz *1850 | | |
| | | | | | | | | | | |
| | | | | | | | | Franz Roggenbuck | | | Johann Paul *1897 |
| | | | | | | | | oo 1889 | __| | oo 1919 |
| | | | | | | | | Elisabeth Strohlke | | | Cecilie Theus |
| | | | | | | | | | | | |
| | | | | | | | | | | | Robert Albert *1894 |
| | | | | | | | | | | |
| | | | | | | | | | | Karl Mitzinel |
| | | | | | | | | | | oo 1904 |
| | | | | | | | | | | Dorothea Anna Roggenbuck |
| | | | | | | | | | | |
| | | | | | | | | Anton Grzonkowski | | Franz Ligma |
| | | | | | | Hammer/Kreis Schlochau | | oo 1890 in Konitz | | oo 1905 |
| | | | | | | Franz Roggenbuck | __ | Caroline Roggenbuck *1848 | | Dorothea geb. Roggenbuck |
| | | | | | | Maria Zabback | | | | | |
| | | | | | | | | | Martin Peter *1850 | | Wilhelm Bunder |
| | | | | | | | | oo 1906 in Berlin | | oo 1916 |
| | | | | | | | | Karoline Emilie Koscienly | | Marianne Roggenbuck |
| | | | | | | | | | | |
| | | | | | | | | Carl Roggenbuck | | Franz Woytakiewicz |
| | | | | | | | | oo 1894 | | oo 1906 |
| | | | | | | | | Marie Kiewicz 1871-1945 | | Marie Roggenbuck |
| | | | | | | | | | | |
| | | | | | | | | August Roggenbuk | | Carl Rotschinski |
| | | | | | | | | oo 1895 | | oo 1911 |
| | | | | | | | | Auguste Malewska | | Anna Roggenbuck |
| | | | | | | | | | | |
| | | | | | | | | | | |
| | | | | | | | | | | Leonard Rucki |
| | | | | | | | | | | oo 1911 |
| | | | | | | | | | | Franziska Roggenbuck |
| | | | | | | | | Joseph Roggenbuck | | |
| | | | | | | | | oo 1900 Amalie | | |
| | | | | | | | | Geschwendter geb. Hollandt | | Bernhard Semrau |
| | | | | | | | | | | oo 1919 |
| | | | | | | | | | | Marie Roggenbuck |
| | | | | | | | | | | |
| | | | | | | | | | | Johann Paul Roggenbuck |
| | | | | | | | | Franz Roggenbuck | | oo 1919 |
| | | | | | | | | oo 1904 | | Cäcilie Marie Thevs |
| | | | | | | | | Martha Thiel | | |
| | | | | | | | | | | |
| | | | | | | | | Carl Roggenbuck | __ | Francisca Elisabeth *1891 |
| | | | | | | | | Maria Tuszkiewicz | | | |
| | | | | | | | | | | | Maria Mathilde *1894 |
| | | | | | | | | | | | |
| | | | | | | | | | | | Johann Albert *1897 |
| | | | | | | | | | | | |
| | | | | | | | | | | | Carl Joseph *1900 |
| | | | | | | | | | | | |
| | | | | | | | | | | | Albert Paul *1903 |
| | | | | | | | | | | | |
| | | | | | | | | | | | Martha Theresia *1905 |
| | | | | | | | | | | | |
| | | | | | | | | | | | Ella Margarete *1911 |
| | | | | | | | | | | |
| | | | | | | | | | | |
| | | | | | | | | | | |
| | | | | | | | | | | |
| | | | | | | | | | | |
| | | | | | | | | | | Josef Roggenbuck |
| | | | | | | | | | | oo 1922 |
| | | | | | | | | | | Anna Golinski |
| | | | | | | | | | | |
| | | | | ?? | | Richnau | | | | |
| | | | | ro_konarzyn.htm | __ | Albert Roggenbuck | __ | Johann Bernhard *1882 | __| | Leo Bernhard *1908 |
| | | | | ?? | | Mathide Meier | | oo 1906 | | | |
| | | | | | | | | Antonia Kreft, geb.Stolz | | | Bruno Paul *1913 |
| | | | | | | | | | | | Maria Kujawska oo 1936 |
| | | | | | | | | | | | |
| | | | | | | | | | | | Franz Johann *1911 |
| | | | | | | | | | | |
| | | | | | | Roggenbuck | __ | Wilhelm Roggenbuck | __ | Hedwig Theresia *1901 |
| | | | | | | | | oo 1901 | | | |
| | | | | | | | | Agnes Semrau | | | Paul Bruno Wilhelm *1904 |
| | | | | | | | | | | | |
| | | | | | | | | | | | Otto Franz *1909 |
| | | | | | | | | | | |
| | | | | | | | | Paul Roggenbuck | __ | Albert Ambrosius *1901 |
| | | | | | | | | oo 1897 | | | |
| | | | | | | | | Anna Malewski | | | Paul Vincent *1902 |
| | | | | | | | | | | | |
| | | | | | | | | | | | Elisabeth Auguste *1904 |
| | | | | | | | | | | |
| | | | | | | Niesewanz | | | | |
| | | | | Roggenbuck | __ | Johann Roggenbuck *1831 | __| | Ferdinand August 1858 | | |
| | | | | | | oo 1856 in Konitz | | | | |
| | | | | | | Susanne Marszynska *1833 | | | | |
| | | | | | | | | | | |
| | | | | | | Niesewanz | | | | |
| | | | | | | Joseph Roggenbuck *1834 | __| | Maria Auguste *1861 | | |
| | | | | | | oo 1859 in Konitz | | | | | |
| | | | | | | Anna Fedde *1836 | | | Mathilde Auguste1862-1862 | | |
| | | | | | | | | | | | |
| | | | | | | | | | Anna Dorothea *1865 | | | Franz *1898 |
| | | | | | | | | | Niesewanz/Wielle | | | |
| | | | | | | | | | August Joseph 1869-1920 | __| | Sofia *1902 |
| | | | | | | | | | Franciszka Gostkowska | | | |
| | | | | | | | | | | | | Helena *1908 |
| | | | | | | | | | Cecilia Franziska 1873-1875 | | |
| | | | | | | Niesewanz | | | | |
| | | | | | | Julius Roggenbuck | __ | Michael Ambrosius *1875 | | |
| | | | | | | Susanne Marszynska | | | | |
| | | | | | | | | | | |
| | | | | | | Briesen | | KB evangelische Kirche in Konitz | | |
| | | | | | | Carl Gast *1836 | __ | Bertha Pauline Gast *1869 | | |
| | | | | | | oo 1866 Konitz | | | | |
| | | | | | | Caroline Roggenbuck *1840 | | | | |
| | | | | | | Briesen | | | | Veronica Schubert *1886 |
| | | | | | | | | Bonstetten / Zamarte | | oo 1910 in Hamburg |
| | | | | | | | __ | Franz Ferdinand Roggenbuck | __ | Franz August 1887-1963 |
| | | | | | | | | Johanna Krüger 1859-1928 | | | |
| | | | | | | | | | | | Karl Hieronymus * 1889 |
| | | | | | | | | | | | |
| | | | | | | | | | | | Johannis Bernhard * 1892 |
| | | | | | | | | | | | Richnau / Hamburg |
| | | | | | | | | | | | Paul Hieronymus 1897-1946 |
| | | | | | | | | | | | oo 1925 |
| | | | | | | | | | | | 2) Frieda Karoline Paula Unger |
| | | | | | | | | | | | oo 1938 |
| | | | | | | | | | | | 1) Luise Martha Bertha Marie |
| | | | | | | | | | | | Martens 1889-1937 |
| | | | | | | | | | | | Mossin / Hamburg |
| | | | | | | | | | | | Albert Eduard 1882-1939 |
| | | | | | | | | | | Frida Spethmann |
Quelle:
www.ptg.gda.pl
Churchbook Conitz filmed by LDS
www.geneteka.genealodzy.pl
Added children from birth records
Johann Roggenbuck and Rosalie Schmuck could be the couple that migrate to USA in 1881. See page jomi.html. In the Hamburg passenger list in November 1881 is stated that they left Hamburg with one daughter and two sons. Johann Peter born 1879 (from the above tree) does not appear in any US source. Probably he died as a baby in the US.
Added more Roggenbuck marriage to this page from Konitz Church book
Add more details from LDS
More details from ptg.gda.pl
zwei Familien verschoben nach roprechlau.html
Marie Veronica Roggenbuck, geboren 1879, Vater Albert, Mutter Szegikowski, Quelle: Standesamt Firchau
Added diverse new entries from ptg.gda.pl
Added diverse details
Kinder Albert und Theresia hinzu gefügt
Div. Updates.
Div. Updates.

Marian Lessczynski und Elisabeth Margarete, geborene Roggenbuck, aus Müskendorf, 1940 Frühgeburt
Aus dem Konitzer Tageblatt von 1902
Anzeige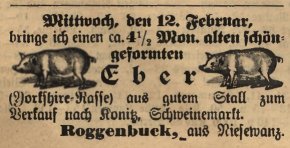 Diebstahl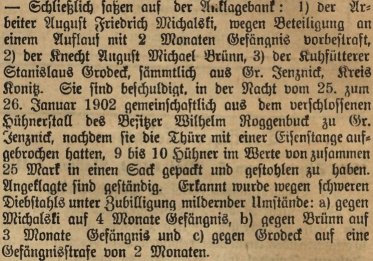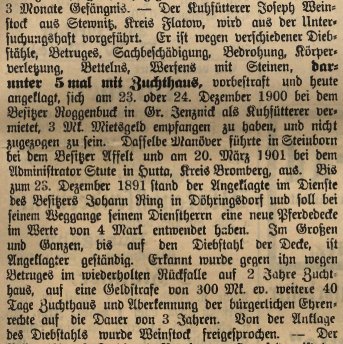 ---


---
Copyright© 1996-2017 Jonny Roggenbuck
Created 08-10-2007
Last revision 22-01-2017