Johann Jakob Roggenbuck Descendants in Michigan/USA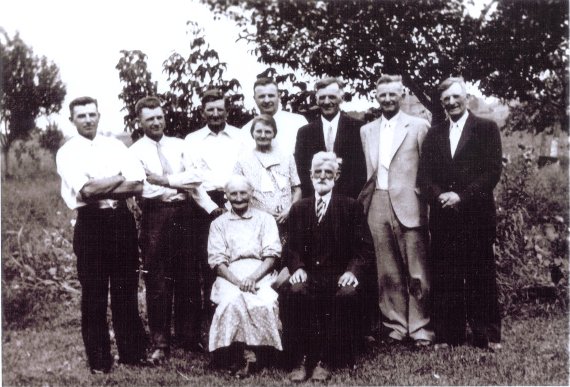 Joseph and Lena Roggenbuck family in 1935.
Left to right: Henry, Leo, Eduard, Arthur, Joseph, Paul, Frank.
Middle: Josephine.
Sitting: Lena and Joseph
| | | | | | | | | | | | | |
| --- | --- | --- | --- | --- | --- | --- | --- | --- | --- | --- | --- | --- |
| Flötenstein/WestPr. | | Flötenstein/Schlochau/WP | | Harbor Beach/Michigan/USA | | Harbor Beach/Michigan/USA | | Harbor Beach/MI/USA | | Michigan/USA | | diff States/USA |
| *1825 | | 1850-1860 | | 1885 - 1900 | | 1910-1920 | | ~*1945 | | ~*1970 | | ~*1995 |
| | | | | | | | | | | | | |
| | | | | | | | Bernard J. 1910-1991 | | | Paul | | | | |
| | | | | | | | Irene Kalka | | | Sandy | | | | |
| | | | | | | | | | | | | Brian | | |
| | | | | | | | Frances *1912 | | | | | | Amanda | | |
| | | | | | | | Martin Jemec | | | | | | | | |
| | | | | | | | | | | Clifford | __| | Clifford Carl | | |
| | | | more siblings in Germany | | | | | Josephine | | | Carol | | Brittany Terrell | | |
| Joseph *1825 | __| | | | | | | | | | | | | | |
| Maria Spors | | | Joseph 1855-1935 | __| | Frank August 1883-1964 | __| | Clarence P. 1914-1998 | __| | Regina | __ | Children | __ | Children |
| | | | Adeline Böhnke 1859-1939 | | | oo 1909 | | | Genevieve Majewski 1922-2009 | | | Larry Maurer | | | | |
| | | | >> 1882 USA | | | Gertrude Messing *1885 | | | | | | | | | | |
| | | | | | | | | | Gertrude Lucille *1916 | | | Marjorie | | | | |
| | | | | | | | | | Stanley Guitar | | | Gerald Mathias | | | | |
| | | | | | | | | | | | | | | | | |
| | | | | | | | | | | | | Frank | | | | |
| | | | | | | | | | | | Sue | | | | |
| | | | | | | | | | Raymond J. *1918 | | | | | | |
| | | | | | | | | | Leona Mazure | __ | Kay Frances | | | | |
| | | | | | | | | | | | Daniel Joseph van Erp | | | | |
| | | | | | | | | | Anna Marie *1921 | | | | | | |
| | | | | | | | | | | | | | | | |
| | | | | | | | | | Franklin A. 1923-2002 | | | | | | |
| | | | | | | | | | Gladys Thompson | | | | | | |
| | | | | | | | | | | | | | | | |
| | | | | | | | | | James A. *1927 | | | | | | |
| | | | | | | | | Ula Attbridge | | | | | | |
| | | | | | | | | | | | | | | |
| | | | | | | Paul 1884-1955 | __| | Harold *1913 | __| | Sharon *1936 | | | | |
| | | | | | | 1) Myrtle Clark *1891 | | | Sabina *1919 | | | | | | | |
| | | | | | | 2) Rachel Mattice | | | | | | Yvonne *1938 | | | | |
| | | | | | | | | | Violet | | | | | 4 Children | __ | Children |
| | | | | | | | | | | | | | | | |
| | | | | | | | | A. Lloyd Mandley | __| | Don | __| | Steven | __ | Children |
| | | | | | | | | | Stella | | | Sherry Bannow | | Cheryl Erickson | | |
| | | | | | | | | | | | | | | | | |
| | | | | | | | | | | | | Janice | | | | |
| | | | | | | | | | | | 1) B. Collins | __ | Children | | |
| | | | | | | | | | | | 2) B. Avery | | | | |
| | | | | | | | | | | | | | | | |
| | | | | | | | | | | | | Jeanette | | | | |
| | | | | | | | | | | | | Kepple | | | | | Nicholas |
| | | | | | | | | | | | | | | | Jeff | __| | |
| | | | | | | Joseph A. 1886-1944 | __| | Elmer *1913 | __| | Marvin | __| | Drita Ibisaj | | | Sofia |
| | | | | | | Mary Messing | | | Maire Peruski | | | Linda Kloska | | | | | |
| | | | | | | | | | | | | | | | Renee | __ | Allison |
| | | | | | | Josephine 1887-1967 | | | Irene * 1917 | | | Eugene | | 1) Collins | | |
| | | | | | | Albert Mausolf | | | Paul Schuette | | | Vicki | | 2) Thomas | | |
| | | | | | | | | | | | | | | | | |
| | | | | | | | | | Ervin * 1919 | | | | | | | |
| | | | | | | | | | | | George | | | | |
| | | | | | | Edward 1889-1969 | __ | eleven Children | | | Mary Kinney | | | | |
| | | | | | | Rose Lorkowski | | | | | | | | | |
| | | | | | | | | | | | | | | | |
| | | | | | | | | | | | | | | | | Kyle oo 2009 |
| | | | | | | Arthur 1895-1962 | __ | five children | | | | | | | | Stephanie Ann Kozdron |
| | | | | | | Elizabeth Gleason | | | | | | | | | | |
| | | | | | | | | | | | | | | Gary | __| | Wesley |
| | | | | | | | | | | | | | | Valery Brown | | | |
| | | | | | | | | | Jerome 1924-1984 | | | | | | | | | Holly |
| | | | | | | Elizabeth 1896-1976 | | | Dorothy Messing 1925-2009 | | | Kenneth J. | __| | | | |
| | | | | | | | | | | | | Christine Ruthkowski | | | Tina | __ | Hannah |
| | | | | | | | | | | | | | | | Bob Scott | | | |
| | | | | | | | | | | | | | | | | | | Amanda |
| | | | | | | | | | | | | | | | | | L. Hengesbach |
| | | | | | | | | | | | | | | | | | |
| | | | | | | | | | | | | | | | Eric | __| | Samantha |
| | | | | | | | | | | | | | | Shannon | | | |
| | | | | | | | | | | | | | | | | | Jesse |
| | | | | | | | | | | | | | | | Jo Marie | | |
| | | | | | | | | | | | | Bernice | __| | | | |
| | | | | | | | | | | | Gary Divine | | | Heather | | |
| | | | | | | | | | Edna * 1925 | | | | | | | |
| | | | | | | | | | Anthony Roth | | | | | Craig | | |
| | | | | | | | | | | | | | | | |
| | | | | | | | | | Charles 1927-2013 | __ | Roy | | | | |
| | | | | | | | | | Bertha Schaffer | | | Claudia | | | | |
| | | | | | | | | | | | | | | | | |
| | | | | | | | | | | | | Larry | | | | |
| | | | | | | | | | | | | | | | | |
| | | | | | | | | | | | | Dale | | | | |
| | | | | | | | | | | | | | | | |
| | | | | | | | | | Vincent *1928 | | | | | | |
| | | | | | | | | | Phyllis Murray | | | | | | |
| | | | | | | | | | | | | | | | |
| | | | | | | | | | | | | James Leo | | | | |
| | | | | | | | | | | | | Karen L. Eberhart | __ | four children | __ | two children |
| | | | | | | | | | | | | | | | | |
| | | | | | | | | | | | | Elizabeth E. | | | | |
| | | | | | | | | | | | | John Lee Tester | | | | |
| | | | | | | | | | | | | | | | | |
| | | | | | | Leo 1900-1977 | __| | Monica +2005 | __| | Ann Marie | | | | |
| | | | | | | Clara Booms 1902-1996 | | | M. James DeYoung +2003 | | | Reginal P. Fritts | | | | |
| | | | | | | | | | | | | | | | | |
| | | | | | | | | | | | | Matthew J. | | | | |
| | | | | | | | | | | | | Ellen Headrick | | | | |
| | | | | | | | | | | | | | | | | |
| | | | | | | | | | | | | Sarah S. | | | | |
| | | | | | | | | | | | David Spratt | | | | |
| | | | | | | | | | | | | | | | |
| | | | | | | | | | | | | Sandy | | | | |
| | | | | | | | | | | | | | | | | |
| | | | | | | | | | | | | Barbara | | | | |
| | | | | | | | | | Orville Andrew *1929 | __| | | | | | |
| | | | | | | | | | Lucille Agnes Taschner | | | Margret | | | | |
| | | | | | | | | | | | | | | | | |
| | | | | | | | | | | | | Leslie | | | | |
| | | | | | | | | | | | | | | | | |
| | | | | | | | | | | | | Mary Jo | | | | |
| | | | | | | | | | | | | | | | | |
| | | | | | | | | | | | | Julie | | | | |
| | | | | | | | | | | | | | | | | |
| | | | | | | | | | | | | Jennifer | | | | |
| | | | | | | | | | | | | | | | | |
| | | | | | | | | | | | | Dallas Andrew *1974 | | | | |
| | | | | | | | | | Carl 1935-2015 | | | | | | |
| | | | | | | | | | Carol Stein | __ | Chris | | | | |
| | | | | | | | | | | | | | | | | |
| | | | | | | | | | | | | Kevin | | | | |
| | | | | | | | | | | | | Diane | | | | |
| | | | | | | | | | | | | | | | | |
| | | | | | | | | | | | | Jeffery | | | | |
| | | | | | | | | | | | | Lisa | | | | |
| | | | | | | | | | | | | | | | | |
| | | | | | | | | | | | | Keith | | | | |
| | | | | | | | | | | | Laurie | | | | |
| | | | | | | | | | | | | | | | |
| | | | | | | | | | | | | Robert | | | | |
| | | | | | | | | | Earl | | | | | | | |
| | | | | | | | | | 1) Ellen Philip | __| | Amy | | | | |
| | | | | | | | | | 2) Brenda Bailey | | Richard Vanakker | | | | |
| | | | | | | | | | | | | | | | |
| | | | | | | | | | | | | Brian | | | | |
| | | | | | | | | | | | | Susan | | | | |
| | | | | | | | | | | | | | | | | |
| | | | | | | | | | | | | Scott | | | | |
| | | | | | | | | | Harry | __| | Cindy | | | | |
| | | | | | | | | | Rochelle Seidl 1940-2005 | | | | | | | |
| | | | | | | | | | | | | Dean | | | | |
| | | | | | | | | | Lula | | | | | | | |
| | | | | | | | | | Daniel Clark | | | Renee | | | | |
| | | | | | | | | | | | | David | | | | |
| | | | | | | | | | | | | | | | | |
| | | | | | | | | | Aletha | | | Leon | | | | |
| | | | | | | | | | Romzek | | Amy | | | | |
| | | | | | | | | | | | | | | | |
| | | | | | | | | | Glenn 1939-1999 | __ | Carmen | | | | |
| | | | | | | | | | Barbara Thompson | | | Terry Messing | | | | |
| | | | | | | | | | | | | | | | | |
| | | | | | | | | | Rebecca | | | Greg | | | | |
| | | | | | | | | | Richard Groll | | | Marcia | | | | |
| | | | | | | | | | | | | | | | | |
| | | | | | | | | | Anita | | | Paulette | | | | |
| | | | | | | | | Scott Plummer | | | Perry Heleski | | | | |
| | | | | | | | | | | | | | | | |
| | | | | | | Henry 1902-1978 | __ | thirteen Children | | | Pam | | | | |
| | | | | | | Magdalena Holdwick 1902-2004 | | | | Mike Hessling | | | | |
| | | | | | | | | | | | | | |
| | | | | | | | | | Michigan | | | | |
| | | | Albert H. 1865-1927 | __ | Henry A. 1898-1966 | __ | Shirley Ruth 1922-2009 | | 1950-1970 | | | Scott | | |
| | | oo 1895 Sand Beach | | | Martha Kirk 1899-1990 | | | Gerard Flannery 1921 | | | | | | | |
| | | Mary Pelath 1875-1944 | | | | | | | | | Dale Roggenbeck | __| | Alise | | |
| | | >> 1884 USA | | | Rose 1900 | | | Robert 1924-1977 | __| | Susan Goltz | | | | | |
| | | | | | Leo Manley | | | Norma Cassidy 1927 | | | | | | Shaun | | |
| | | | | | | | | | | | Marc | | | | | |
| | | | | | | | | | | | | | Sara | | |
| | | | | | Martha 1904-1982 | | | Mary Agnes 1927 | __ | Leroy | | | | |
| | | | | | Sister Innocentia | | | Leroy Golm 1923-1988 | | | | | | | |
| | | | | | | | | | | | Gordon | | | | |
| | | | | | | | | | | | | | | | |
| | | | | | | | | | | | Gary | | | | |
| | | | | | | | | | | | | | | |
| | | | | | | | | John 1930 | __ | Janice | | | | |
| | | | | | | | | Irene Droste 1929 | | | Willis | | | | |
| | | | | | | | | | | | | | | | |
| | | | | | | | | | | | Lynn | | | | |
| | | | | | | | | | | | Field | | | | |
| | | | | | | | | | | | | | | | |
| | | | | | | | | | | | Allison | | | | |
| | | | | | | | | | | | Douglas | | | | |
| | | | | | | | | | | | | | | | |
| | | | | | Albert 1902-1914 | | | | | | Thomas | | | | |
| | | | | | | | | | | | | | |
| | | | | | | | | | | Paul | | | | |
| | | | | | | | Henry A. 1931 | __| | | | | | |
| | | | | | | | Kathryn Jones 1934 | | | Christine | | | | |
| | | | | | | | | | | Skiver | | | | |
| | | | | | | | | | | | | | | |
| | | | | | | | | | | James | | | | |
| | | | | | | | | | | | | | |
| | | | | | | | Gerad 1943 | __ | Jeffery | | | | |
| | | | | | | Sandra Paul | | | | | | | |
| | | | | | | | | | Kelly | | | | |
Extra page for Henry and Magdalena Roggenbuck descendants
Extra page for Edward and Rose Roggenbuck descendants
added children and wife to Dale Roggenbeck
added children and wife to Earl
added children
Added more grand children to Stella and Lloyd
Added more details at the Roggenbeck branch. Thanks to John Roggenbeck.
Roggenbuck Centennial Farm Celebration 2009
Separate page for Jerome descendants
added some more details
Added some members of the DeYoung famlily, thanks to Karen
Add more children to Carl

Need confirmation for Ervin Roggenbuc(k)h born 1919. Dead 1977. Son of Joseph A. 1886-1944. Ervin sr had a son named Erwin jr 1946-2012. Daughter Carrie of this Ervin 1972-2016. Any help needed! Source is Ancestry home page.
---


---
Copyright© 1996-2019 Jonny Roggenbuck
Created 13-03-1998
Last revision 28-12-2019