Roggenbuk in Plymouth/Sheboygan County/WI/USA
| | | | | | | | | |
| --- | --- | --- | --- | --- | --- | --- | --- | --- |
| Pommern/Germany | | Pommern/Germany | | Sheboygan County/WI/USA | | Sheboygan County/WI/USA | | Sheboygan County/WI/USA |
| 1770 | | 1800 | | 1830 | | 1860 | | 1890 |
| | | | | | | | | |
| | | | | Julius Mattias 1816-1881 | | | | |
| | | | | | Wilhelmina Roggenbuk | __ | Adolf Mattias | | |
| | | | | | 1823-1878 | | Ernestina Stange | | |
| | | | | | | | | | |
| | | Schwessow | | | | | | | |
| Roggenbuk | __ | Johann(John) 1794-1874 | __| | Friedrich Johann (Fred) 1834-1917 | __ | Wilhelm Leopold * 1864 | __ | Frederic John *1886 |
| | | Charlotte *1793 | | | 1) Mary Minch 1844-1868 | | | Bertha A. Raschke oo1885 | | |
| | | | | | 2) Luise Zastrow 1848-1883 | | | | | |
| | | | | | | | | Anna E. 1866-1950 | __ | eight children |
| | | | | | Henrietta 1829-1893 | | | Fried. Wittkopp oo1884 | | |
| | | | | | | | | | | |
| | | | | | | | | Marie 1870-1945 | | |
| | | | | | | | | oo 1893 | | |
| | | | ? | | | | Henry A. Kappel *1866-1955 | __ | children |
| | | | | | | | | | | |
| | | | | | | | | Wilhelmina 1879-1957 | | |
| | | | | | | | | | | |
| | | | | | | | | Minnie *1883 ?? | | |
| | | | | | | | | | |
| | | | | | | | | | |
| | | | | | 1) Karl (Charles) *1825 | | | | |
| | | | | oo 1850 | | | | |
| | | | | Maria Millbrath *1829 | | | | |
| | | | | 2) oo 1856 Mequon, Ozaukee Co. | | | | |
| | | | | Emil v. Franckenberg-Ludwigsdorf | | | | |
This could be the above mentioned Mary Roggenbuk (married Kappel). Photo made approx. 1900? Source: Manitowoc Genealogy Web Site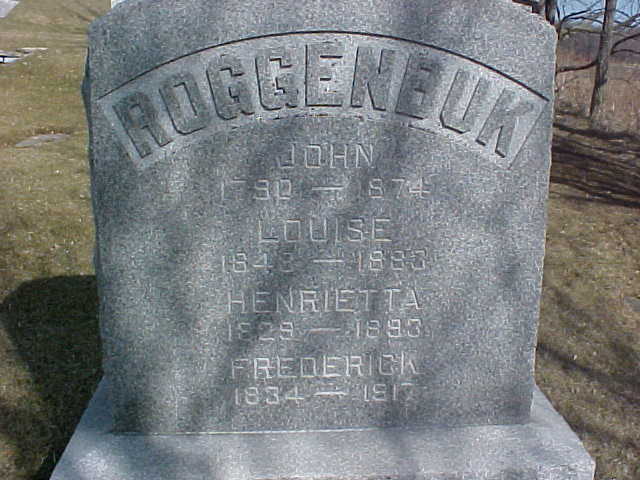 Source of this picture is
Found the census data of Charles and Mary. Age in 1850: He 25, she 21
Found marriage in Milwaukee County in 1850: Charles (Karl?) Roggenbuk and Maria Malbrath.
Data colleced from Sheboygan County Genealogy Home Page
Census from 1880 point out, that the children where born in the USA. That means that this family came before 1865 to the States!
In the 1860 Census I found a John Roggenbuck born approx 1794. He lived at Sheboygan County/Wisconsin. In the same page I found also a Frederic Roggenbuck born approx. 1833. This could be Fred and the mentioned John could be Johann Roggenbuck that left in 1839 Pommeria. This family lived in Lima.
Fredīs real first name is Friedrich Johann or Fredrick John. I found a news paper article in the archive of The Sheboygan Press dated February 11, 1927
Corrected some details according Census data
Henrietta apppears on the 1880 census as single in the household of Herman Zahl in Milwaukee
Added Wilhelmina to this family tree. Source Census 1860. Added Charles with aquestion mark.
Census 1840 shows a John Roggenbuck in Buffalo Ward 4. Further more it shows three males children and two female children. Only the age range is given. One boy is 5 to 10, 15 to 20 and one is 20 to 30. One girls is 10 to 15, the other is 15 to 20. This family came in 1839 to the States and moves later to Wisconsin.
Insert Photo of Mary Roggenbuk
>Added the wife (Charlotte) of Johann from census 1850
I believe that this family belongs to the tree Leroy Roggenbuk Milwaukee. William on both tables could be the same person, although the birthdates are not exactly the same. Most of the time the birth or marrige dates are recalculated or estimated. Any help is apprectiated.

insert some more details from findagrave.com
---
---
Copyright ® 1996-2009 Jonny Roggenbuck
Created 03-04-2002
Last revision 12-07-2014