Julius Roggenbuck Danziger Höhe
| | | | | | | | | | | | | | | | | |
| --- | --- | --- | --- | --- | --- | --- | --- | --- | --- | --- | --- | --- | --- | --- | --- | --- |
| Kreis Karthaus | | Kreis Karthaus | | Lichtenfeld/Rheinfeld/DH | | Lichtenfeld/Rheinfeld/DH | | Groß Bölkau/Danziger Höhe | | Prangenau/Danziger Höhe | | Bundesrepublik | | Bundesrepublik | | BRD |
| 1770 | | 1800 | | 1830 | | 1860 | | 1890 | | 1920 | | 1950 | | 1980 | | 2010 |
| | | | | | | | | | | | | | | | | |
| Johann Liedtke | | | | | | | | | | | | | | | | |
| Catharina Meyer | __ | Gottfried Liedtke 1804-1853 | | | | | | | | | | | | | | |
| | | oo 1826 in Rheinfeld | __ | | | | | | | | | | | | | |
| George Koschnitzke | __ | Rahel Koschnitzki 1802-1841 | | E. Florentine Liedtke 1830-1894 | | | | | | | | | | | | |
| Dorothea Wygand | | | | oo 4.11.1856 Lichtenfeld | __ | Friedrich Wilhelm *1857 | | | Antonie Ottilie 1882-1885 | | | | | | | | |
| | | Johann Roggenbuck *1802 | __ | Julius Erdmann 1835-1901 | | | | | | | | | | | | | | |
| | | Karoline Märtins | | | | | Julius Hermann *1859 | __| | Paul Johann 1886-1907 | | | | | | | | |
| | | | | | | | Rosalie Czeplak *1858 | | | | | | | | | | | |
| | | | | | | | | | | Franz Karl 1897-1917 | | | | | | | | |
| | | | | | | | Otto Rudolph *1860 | | | | | | | | | | | |
| | | | | | | | | | | Albert Hermann *1889 | | | | | | | | |
| | | | | | | | August Robert *1863 | | | | | | | | | | | |
| | | | | | | | | | | Walter Robert *1893 | | | Erna *1914 | __ | 3 Kinder | | | | |
| | | | | | | | Adolph Johann *1865 | | | | | | Bruno Stahl | | | | | | |
| | | | | | | | | | | Maria Eva *1894 | | | | | H. Fischer | __ | Kinder | __ | Kinder |
| | | | | | | | | | | Franz Quiring *1892 | __| | Else Quiring *1919 | __| | R. Loosen | | | | |
| | | | | | | | | | | | | | Erich Loosen | | | | | | | |
| | | | | | | | | | | Hedwig *1891 | | | | | | | | | | |
| | | | | | | | | | | | | | Otto | | | | | | |
| | | | | | | | | | | Walter Oskar *1899 | | | Hilda Kaiser | __ | 2 Kinder | | | | |
| | | | | | | | | | | | | | | | | | | | |
| | | | | | | | | | | | | | Maria | | | | | | |
| | | | | | | | | | | | | | Erich Hensel | __ | 2 Kinder | | | | |
| | | | | | | | | | | | | | | | | | | | |
| | | | | | | | | | | | | | Walter | | | | | | |
| | | | | | | | | | | | | | | | | | | | |
| | | | | | | | | | | | | | Ruth | | | | | | |
| | | | | | | | | | | | | Heinrich Jost | __ | 3 Kinder | | | | |
| | | | | | | | | | | | | | | | | | | |
| | | | | | | | | | | Johannis Julius *1874 | __ | Johannes Paul 1907-2001 | | | | | | |
| | | | | | | | | | | oo 1906 | | 1930 --> Chicago/USA | | | | | | |
| | | | | | | | | | Agnes Martha Hielscher *1881 | | | | | | | | |
| | | | | | | | Schönrohr | | | | | | | | | | |
| | | | | | | | Rudolf Gottlieb Liedtke *1868 | __ | Eva Auguste *1899 | | | | | | | | |
| | | | | | | | Emma Marie *1867 | | Georg Alfred * 1898 | | | | | | | | |
| | | | | | | | Groß Bölkau | | Arthur Heinrich *1892 | | | | | | | | |
| | | | | | | | | | Bruno Friedrich *1893 Zw. | | | | | | | | |
| | | | | | | | | | Rudolf Wilhelm *1893 Zw. | | | | | | | | |
| | | | | | | | | | | | | | | | | | |
| | | | | | | | | | | | | | | | | | |
| | | | | | | | Ottilie Emilie 1870-1956 | __ | Klara Granke 1898 | __ | vier Kinder | __ | Kinder | | | | |
| | | | | | | | Friedrich Granke 1870-1907 | | oo 1922 | | | | | | | | |
| | | | | | | | | | Walter Willi Staeck | | | | | | | | |
| | | | | | | | Groß Bölkau | | | | | | | | | | |
| | | | | | | | Auguste Bertha *1873 | | | | | | | | | | |
| | | | | | | oo 1903 | | | | | | | | | | |
| | | | | | | Fritz Carl Eduard Brolat | | | | | | | | | | |
Quelle: Privat, Kontakt vorhanden
zusätzliche Quelle ist LDS #0208313 ev. KB Rheinfeld
Johannes Paul ist 1930 in die USA ausgewandert. Im Census von 1930 ist er in Cook County/Illinous aufgeführt. Laut SSDI ist er 2001 in Hayward/Sawyer/WI gestorben. Er war nie verheiratet. In der Passagierliste stand direkt über Johannes die aus Danzig-Emaus kommende Helene Plotzki (23) und mit ihrem Sohn Lothar (2). Zufall oder kannten sich die beiden schon vorher? Haben sie sich auf dem Schiff kennen gelernt?
Hinzugefügt Ottilie Emilie. Danke Herr Staeck!
Link zur Seite der Familie Staeck eingefügt.
Auguste Bertha hinzugefügt.
Daten Johann Julius erweitert
Großeltern von Florentine Liedtke hinzugefügt. Quelle: Danzig Forum und www.genealogy.net
Source: Obituary in Hayward WI News June 5 2001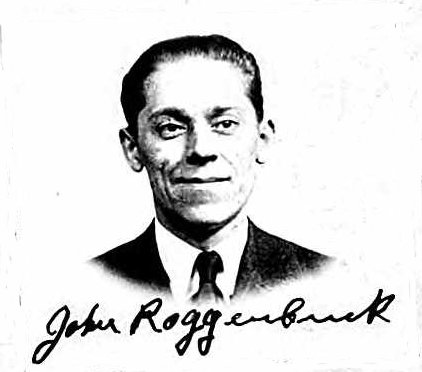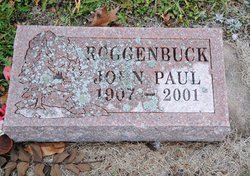 John P. Roggenbuck, 93, Hayward, died Sunday, June 3 at the Hayward Area Memorial Hospital.
John Paul Roggenbuck was born July 6, 1907 in the Free City of Danzig, Germany, the son of Johannes and Martha (Hilscher) Roggenbuck. He was a cabinetmaker before coming to the United States at the age of 21. It took 12 days for his trip over on the Baltic American Line and cost him $150 for his passage. He arrived in Cleveland, OH and then moved to Chicago, IL. In Chicago, John was chef at the following restaurants: The Sherman House, The Palmer House, Congress, Chez Paree, and the Stevens. He was a member of Cooks Union Local 88. He retired at the age of 62 and moved to his home on the Chippewa Flowage where he devoted his time to wood carving, hunting, and fishing. John loved nature and the Hayward area. He donated over 25 of his woodcarvings to the Freshwater Fishing Hall of Fame.
John never married. He was preceded in death by his parents.
Todesort und Datum für Paul Johannis und Franz Karl hinzugefügt
Ehemann und Hochzeitsjahr von Auguste Bertha hinzugefügt

Emma Marie * 1867, Rudolf Liedtke und Kinder hinzugefügt. Bruno und Rudolf sind Zwillinge
---


---
Copyright© 1996-2019 Jonny Roggenbuck
Created 23-04-2002
Last revision 31-11-2019