Joseph (4) Roggenbuck from Flötenstein to Milbank / Grant / South Dakota
| | | | | | | | | | | |
| --- | --- | --- | --- | --- | --- | --- | --- | --- | --- | --- |
| Flötenstein / Germ. | | Flötenstein/Schlochau/Germ. | | Milbank / Grant / SD / USA | | Milbank / Grant / SD/USA | | Tarrant/Texas/USA | | Tarrant/Texas/USA |
| 1840 | | 1870 | | 1900 | | 1930 | | 1960 | | 1990 |
| | | | | | | | | | | |
| | | | | | | | | | | |
| | | | | | | | | | | |
| Roggenbuck | __ | Josef 1870-1948 | __ | Ella *1893 | | | | | | |
| | | oo 1891 | | | | | | | | | |
| | | Mary Schormann *1874-1974 | | | George 1894-1991 | | | | | | |
| | | >> 1886 | | | oo1919 Marie Weatherer | | | | | | |
| | | | | | | | | | | | |
| | | | | | Gretchen *1896 | __ | Stephen Kelly 1925-1986 | | | | |
| | | | | | Stephen Kelly 1886-1925 | | | | TX | | |
| | | | | | | | Oklahoma | | | John Ritchie *1957 | __ | Mary |
| | | | | | Francis Eugene 1897-1978 | __| | Maria Patricia *1931 | | | oo 1992 | | |
| | | | | | Laura Hamilton 1899-1970 | | | | | | Susann Smith | | |
| | | | | | | | | Francis Joseph *1932 | __| | | | |
| | | | | | Grace *1898-1983 | | Mary K. Ritchie | | | Joann Lynn *1960 | __ | Jennifer Marie |
| | | | | | oo 1914 (?) Milbanks | | | | | William Marcus Chase | | | |
| | | | | | Joseph Michael Schoeberl | | | | | | | | Joshua |
| | | | | | | | | | | | | | |
| | | | | | Wallace Joseph *1899 | | | | | Jolene *1966 | | | Joseph Michael |
| | | | | | | | | | | oo 1988 | | |
| | | | | | Alphonse *1901 | | | | | Kelly Longhorne | | |
| | | | | | | | | | | | | |
| | | | | | Margaret 1901-2006 | _ | Children | | | James Joseph *1968 | | |
| | | | | | Theo. de Wird +1983 | | | | | | |
| | | | | | | | | | | | |
| | | | | | Gary *1916 | | | | | | |
Headstone of George Roggenbuck. Location: Saint Lawrence Cemetery, Milbank (Grant County), South Dakota.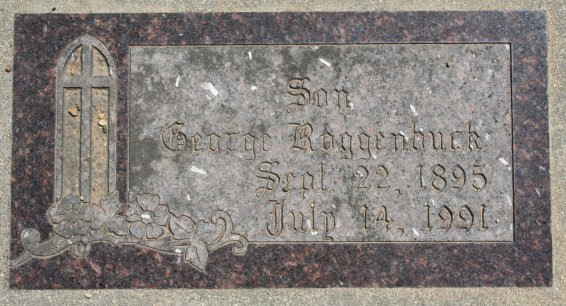 Parents of George are Joseph and Mary (Maria Schormann?)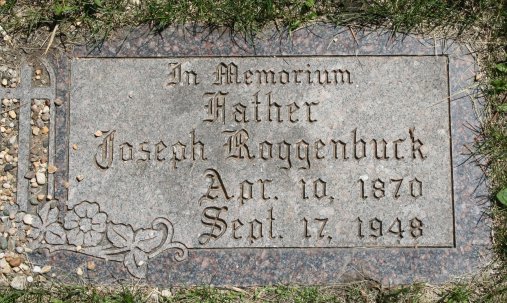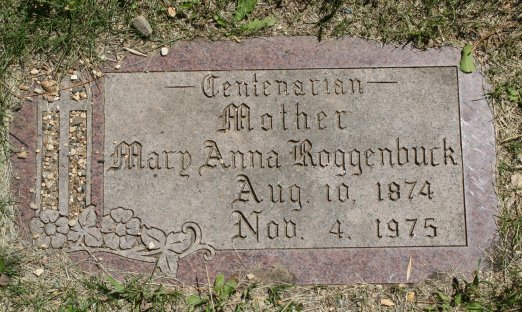 I found in www.rootsweb.com in the South Dakota Section a Roggenbuck Family with following members: Joseph Roggenbuck and his wife Mary Schorman. Three children: George Joseph born 22/09/1894, Gertrude born 22/09/1895 and Francis Eugean born 16/05/1897. I found more children and more details in the census 1900. The name in the database was miss spelled as Roggarbock(!!).
Corrected Joseph tree according Census data 1910
Joseph came in 1885 to the States, Mary came in 1881
Facts about Joseph Roggenbuck
born: 10. April 1870 in Flötenstein/Kreis Schlochau
immigration: 15. April 1886 from Bremen with ship Hermann
came in 1892 to South Dakota (recalculated by census data how long in this state). Where did he live between 1886 and 1892?
married Mary Schormann in 1891
1900 census Big Stone Tw
1905 census Milbank, Grant, SD
1915 census
1912 Naturalization
1913 returned from a visit in Germany
1948 died
Are there any known descendants still living in Milbank or Big Stone?
Added husband to Grace. Source www.gencircles.com

Added children to Francis Joseph
---
---
Copyright © 1996-2012 Jonny Roggenbuck
Created 04-07-2009
Last revision 30-05-2012