If you are looking for some information about the name or the origin of the Roggenbuck families you are right. Most of the ancestors with that last name came from a small village called Flötenstein/Kreis Schlochau/West Prussia. Today this village is called Koczala (Poland).
If you have or know any details which could help us, please send an e-mail to this site.
We know that some family members came to the United States between 1880 and 1923. From different family branches, but most of them from villages like Flötenstein, Lanken, or Eickfier.
There are lot of variations of the name in the U.S. You´ll find names like Roggenburk, Roggenback, Rogganbuck, Roggenbeck and Roggenbock.
Meanwhile I have extended this site also for Roggenbuck family search outside Kreis Schlochau as well as von Roggenbucke.
Contacts, corrections, suggestions:
The author of this site is Jonny Roggenbuck. Living near Hamburg/Germany
Sollten Sie Informationen über die Herkunft des Namens oder von Personen mit dem Namen Roggenbuck suchen, sind Sie hier richtig! Wir wissen, daß viele Familien aus einem hinterpommerschen Dorf namens Flötenstein/Kreis Schlochau (heute Koczala in Polen) kommen. Falls Sie über Informationen verfügen, teilen Sie uns diese bitte per E-Mail mit.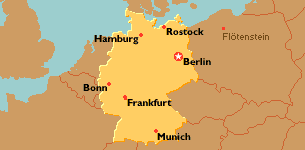 Einige Familienmitglieder aus Flötenstein sind zwischen 1880 und 1923 in die U.S.A ausgewandert.
Mittlerweile habe ich die Familienforschung ausgedehnt. Daher finden Sie nun auch Roggenbuck Familien Seiten außerhalb des Kreises Schlochau, z. B. Danzig, Marienwerder, Tilsit und Stettin.