Franz Roggenbuck Lanken Descendants
| | | | | | | | | | | | | |
| --- | --- | --- | --- | --- | --- | --- | --- | --- | --- | --- | --- | --- |
| Flötenstein/Schlochau | | Lanken/Kr.Schlochau | | Lanken/Kr.Schlochau | | BigStone/ND/USA | | diff.States/USA | | diff.States/USA | | USA |
| ~1815 | | *1847 | | *1870 - 1880 | | *1897-1923 | | * 1930-1944 | | * 1950-1975 | | *1975-1999 |
| | | | | | | | | | | | | |
| | | | | | | John Schmitz 1898-1988 | __ | Children | __ | Children | | |
| | | | | | | | Mathilda Mary 1901-1950 | | | | | | |
| | | | | | | | | | | | | | | Carstyn |
| | | | | | | | | | | | | | | |
| | | | | | | | Helen *1902 | | | Lawrence *1944 | __ | Steven | __| | Aubrey |
| | | | | | | | John Koble | | | Sharyl Anderson | | 1) Heather Wrobleski | | |
| | | | | | | | | | | | | 2) Amber Dawson | __ | IzaByllah F. |
| | | | | | | | | | | | | | | | |
| | | | | | | | | | | | | | | | Dawson M. |
| | | | | | | | | | | | | | | |
| | | | | | | | Clara * 1904 | | | | | | Michael *1969 | | |
| | | | | | | | Theodore Bly *1897 | | | | | | | | |
| | | | | | | | | | | | | | Brent * 1965 | | |
| | | | | | | | Ida * 1906 oo 1925 | | | Richard 1942-2008 | | | | | |
| | | | | | | | Leonard Brown | | | Evelyn Vincent | | | Theodore J. * 1968 | | |
| | | | | | Anna Theresa *1880 | | | | | | | | | | | |
| | | | | | | | | Albert R. *1908 | __| | Ralph *1943 | __| | Timothy *1971 | | |
| | | | | | Peter Andreas *1878 | | | Agnes Paetz *1915 | | Caroline Guerard *1947 | | | | |
| | | | | | | | | | | | | | | |
| | | | | | Joseph | | | Cecilia 1915-2005 | __ | Mary Kathleen *1946 | | | | |
| | | | | | | | | William O`Leary | | | Horn | | | | |
| | | | | | | | | | | | | | | | |
| | | | | | Helene 1885-1927 | | | | | | Francis Agatha 1936-1998 | | | | |
| | | | | | | | | | | | Johnston | | | | |
| | | | | | Regine Maria *1883 | | | | | | | | | | |
| | | | | | | | | | | | Daniel Edward *1941 | | | | |
| | | | | | | | | | | | | | | | |
| | | | | | | | | | | | Dennis Anthony *1949 | | | | |
| | | | | | | | | | | | | | | | |
| | | | | | | | | | | | Myrna Louise *1953 | | | | |
| | | | | | Albert Bernhard 1887-1915 | | | | | Winebarger | | | | |
| Flötenstein | | | | | oo 1913 | | | | | | | | | |
| Roggenbuck | | | | | Anna Lietz *1890 | | | Irene R. 1918-2008 | __ | four Children | | | | |
| | __ | | | | | | | Jack Anderson | | Paul *1947 | | | | |
| | | | | | | | | | | | | | | | |
| | | Franz *1847 | __| | Hermann 1876-1961 | __| | Henry(Hank) 1920-2003 | __ | Linda | __ | ?? | | |
| | | Regina Kanthak *1847 | | | Lidwina Rümenapp | | | Mary Bonds 1922-1994 | | | Wheeler | | | | |
| | | | | | | | | | | | | | | | | |
| | | | | | | | | | | | | | | | | |
| | | | | | | | | | | | | Linda M. *1946 | | | | |
| | | | | | | | | | | | | | | | | |
| | | | | | | | | | | | | Emily L *1945 | | | | |
| | | | | | | | | | | | | | | | |
| Lanken | __| | | | | | | | | | | | Heather | __ | Children |
| Johann Kanthak | | | | | | | | Raymond N. 1923-2009 | __| | Robert 1945-2015 | __/ | | | |
| | | | | | | | oo 1945 | | | Betty Presser +2011 | __ | Mike | | |
| | | | | | | | Lila Banna 1927-2011 | | | | | | | |
| | | | | | John * 1870 | | | | | Linda 1949-2015 | __ | Carrie | __ | Children |
| | | | | | Mary Meier * 1876 | | | | | Henry Patrick | | Travis Popiel | | |
| | | | | | | | | | | | | | | |
| | | | | | Franz Martin *1871 | | Lanken | | | | | Daniel | __ | Zachery |
| | | | | oo 1893 | __| | Johann Paul 1896-1896 | | | Daniel *1953 | __| | Robin Linnertz | | | |
| | | | | Mathilde Strei *1870 | | | | | | Sandra Collins | | | | | | Nicholas Carl |
| | | | | | | | Hermann Franz *1897 | | | | | | Nathan | | |
| | | | | | | | | | | | | | | | |
| | | | | | | | Martha 1899-1899 | | | | | | Cassie | | |
| | | | | | | | | | | | | | | |
| | | | | | | | Peter *1906 | | | Laurie *1964 | __ | Kristy | | |
| | | | | | | | | | Richard Pinnell | | | | | |
| | | | | | | | | | | | | Richard | | |
| | | | | | | | | | | | | | | |
| | | | | | | | | | | | | Jessica | __ | Child |
| | | | | | | | | | | | | | | |
| | | | | | | | | | | | | Robert | | |
| | | | | | | | | | | | | | |
| | | | | | | | | | Dawn *1969 | __ | Brady Joseph | | |
| | | | | | | | | Jason Werre | | | | |
Hermann and Lidvina came in 16.03.1900 with the ship MEYER to the States.
I split this table into two parts. One is the Hermann branch (this page) and the other one is the John page.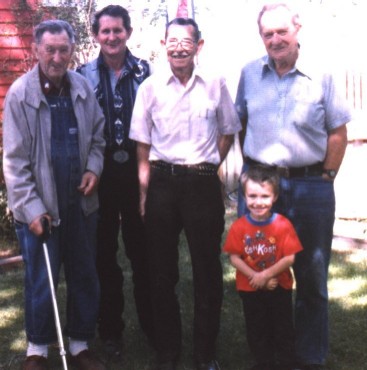 Three generations of Roggenbucks. Most left Albert. Next to the right is his son Ralph. Hank is the brother of Albert. Most right is Ray. In front of Ray is his grandson Brady. The picture was take by Rays son Daniel in 1997 in Minot/ND.
Added child and grand children to Lawrence.
Added more details Raymond and Lila family
More details Steven
added O'Leary siblings
added Albert marriage with Lietz
added more details for children of Franz and Regina. Source StA Flötenstein
add children to Roggenbuck/Strei

add more details to Roggenbuck / Strei
---


---
Copyright© 1996-2020 Jonny Roggenbuck
Created 01-03-1998
Last revision 05-07-2020