Rogenbock (Regenbock, Rokenbuk, Roggenback) in Collinsville CT
| | | | | | | | | |
| --- | --- | --- | --- | --- | --- | --- | --- | --- |
| Mlyniez | | Collinsville/CT | | Collinsville/CT | | Fairfield / CT | | CT/USA |
| 1850 | | 1875 | | 1900 | | 1930 | | 1960 |
| | | | | | | | | |
| | | | | | | | | |
| | | *** | | | | | | |
| Rogenbuk | __ | Adam *1865 | | | | | | |
| | | Elsbieta 1868-1903 | __ | Leocadia *1889 | | | | |
| | | | | | | | | | |
| | | | | | Marianne *1892 | | | | |
| | | | | Mary ** | | | | |
| | | | | | | | | |
| ?Rogenbock | __ | Franz *1866 | __ | John (Jan) *1901 | | | | |
| Katharina *1841 | | Martha *1884 | | | | | | | |
| | | Swirzinski | | | Franzisca +1909 | | | | Dawn Roggenback *1958 |
| | | | | | | | | | oo 1978 |
| | | | | | Stanley *1905 | | | | David T Wyda |
| | | Danzig | | | | | | |
| | | Anton | __ | Anton Swirzinski | | | | Kim Roggenback *1954 |
| | | | | | | | | oo 1974 --1980 |
| | | | | | | | | Susan Centini |
| | | | | Danbury/Fairfield | | Fairfield | | |
| | | Roggenback | __ | Leon 1898-1956 | __ | Robert R. 1921-1994 | | |
| | | | | Johanna Masek1901-1994 | | | Mae | | |
| | | | | | | | | | |
| | | | | | | | Bridgeport | | |
| | | | | | | | Leon H. 1931-1977 | | |
| | | | | | | | Doro | | |
| | | | | | | | Bridgeport | | |
| | | | | | | | Gloria | | |
| | | | | | | | Michal Pancurak | | |
| | | | | | | | | | |
| | | | | | | | Patrica | | |
| | | | | | | | oo 1959 | | |
| | | | | | | | Fred P Gillotti | | |
| | | | | | | | | | |
| | | | | | | | Naomi * 1924 | | |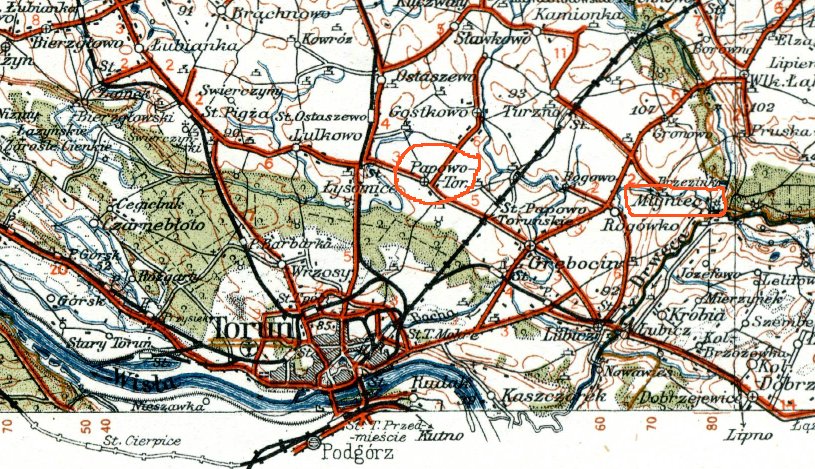 The red marked area is probably the area were thes people came from.
Any help is appreciated! In the Passenger and Census listings the spelling of the last name is always different.
Elsbieta and her children arrived in New York at 23.05.1893 with the ship Trave. Destination is Collinsville. Her daughter Marianne could be identical with a Mary Rogenbock ** in the Census of Connecticut in 1910
Martha and her children also had the destination of Collinsville. They arrived in New York at 30.11. 1909. One could read on the passenger list as State Conn which could be Connecticut? Origin could be Radzynek/Plock/Poland?
Marianne Regenbock arrived in New York at 05.06.1897. Destination is Collinsville (without abbr. for State)
The last three persons appears in the datebase as Roggenback, living in Connecticut.
Probably none of this persons are related to each other. But there is a possiblity that some persons on this pages are related to the Roggenbuck families from Graudenz and Briesen.
In Census 1910 Alexander Swirzinski is member of the household. In 1923 a Anton Swirzinski from Danzig-Langfuhr moves to Collinsville. His father is Anton Swirzinski.
In the 1900 census Frank and Martha are listed as Rokenbuk. Born 1867 and 1880. Immigrated in 1885 and 1897. Both from Germany (Pol). Avon / Hartford / Conneticut.
More infos on Roggenback tree
*** In the source one could read: Eltern (parents), Adam und Elisabeth Ulatowska Papau, Paten Michael Dabrowski und Francisco Zielinska
Von Bremen kommend erreicht Adam Rogienbook (very phonetic!!) am Apr 22, 1892 New York. Source: Ellis Island
Found in Probate Filings from the Farmington Valley Herald - 1920 - 1948:
Rogenbok Jennie 9/23/1922 Burlington
Rogenbok Clara 9/23/1922 Burlington
connected children to Leon. Source: Census 1940

Headstone of Elizabet Roggenbog engraved is here age of 35 year.
---


---
Copyright© 1996-2016 Jonny Roggenbuck
Created 18-12-2006
Last revision 14-07-2016