von Roggenbucke in Greece, Turkey and Australia
| | | | | | | | | | | | | |
| --- | --- | --- | --- | --- | --- | --- | --- | --- | --- | --- | --- | --- |
| Kreis Niederung/OstPr. | | Szillen/RB.Gumbinnen/OP | | Constantinople/OE | | Germany/Austria/OE | | Turkey/Greece/D | | TR/GR/AU/D | | TR/GR/AU/D |
| ~1800 | | ~1835 | | 1865 | | ~1900 | | ~1930 | | 1960-1970 | | ~1990 |
| | | | | | | | | | | | | |
| | | | | | | | | | Antoinette | __ | two children | | |
| | | | | | | Berlin ? | | | | | | | |
| | | | | | | | Louisa | __| | Josefine | | | | |
| | | | | | | | ?? | | | | | | | | Sofia |
| | | | | | | | | | | Luise | __ | two sons | | | |
| | | | | | | | | | | | | | | Peter |
| | | | | | | | | | | | Sule | __| | |
| | | | | | | | | | | | | Antonio | | | Deborah |
| | | | | | | | | | | | | | | | |
| | | | | | | | | | | | | | | | Renata |
| | | | | | | | | | | | | | | |
| | | | | | | | | | | | | Mario | __ | Johannes |
| | | | | | | | | | | | | Gisela | | | |
| | | | | | | | | | | | | | | | Christopher |
| | | | | | | | | | | | | | | | |
| | | | | | | | | | | | | | | | Philip |
| | | | | | | | | | | | | | | | |
| | | | | | | | | | | | | | | | Gloria |
| | | | | | | | | | | | | | | |
| | | | | | | | | | | Albert 1933-2018 | __| | Milena | __ | Children |
| | | | | | | | | | | Maria Giustiniani 1928-2010 | | Cedolin | | |
| | | | | | | | | | | | | | | |
| | | | | | | | | | | | | | George | __ | |
| | | | | | | | | | | | | | Marilena | | |
| | | | | | | | | | | Joseph 1934-2017 | __| | | | |
| | | | | | | | brother | | | Maro | | | Kosta | __ | Aggelos |
| | | | | | | | | | | | | Georgina | | |
| Tilsit/OP | | Lieparthen/Szillen OP | | Constantinople | | | | | | | | | | |
| von Roggenbucke | __ | Ludwig Albert 1829-1896 | __ | Heinrich Albert 1865-1940 | __| | | | | | | | Marianne | | |
| | | Anna Kuszh *1840 | | oo 1895 | | | Georg 1900-1978 | __| | Frank | __| | Manolis | | |
| Krasna/Odessa | | | | | Maria Victoria Pace | | | Photini | | | Eleni | | | | | |
| Johann Kuss | __ | | | | | | | | | | | | | | Michel | | |
| Rosina Assenhaymer | | | | | | | | | | | | | | | |
| | | Malta | | | | | | | | | | | | | |
| | | Emmanuel Pace | __ | | | | | | | | Jack | __| | Peter | | |
| | | Philomena | | | | | | | Eleni | | | | | |
| | | | | | | | | | | | | Bianca | __ | Child |
| | | | | | | | | | | | | | | |
| | | | | | | | | | | | | Diana | __ | Children |
| | | | | | | | | | | | Stephen Brown | | |
| | | | | | | | | | | | | | |
| | | | | | | | | | | Maria +2005 | __ | | __ | Child |
| | | | | | | | | | | Schnirring | | | | |
| | | | | | | | Austria | | | | | | | |
| | | | | | | | Josephine | __| | Anton | | | | |
| | | | | | | Hans Altenweisl | | | | | Dīland | | |
| | | | | | | | | | Judith | __ | Sonja | __ | Child |
| | | | | | | | | | Schweinberger | | Decker | | |
| | | | | | | | | | | | | | |
| | | | | | | | | | Hilda | __ | Child | | |
Added some more first names of children
* The last name Kusch is written in other sources as Kuss or Kuszh
Karl Roggenbucke born 1871 in Konstantinopel, stirbt 1945 in Halle an der Saale. In der Sterbeurkunde sind Vater und Mutter als unbekannt angegeben.

Albert and Joseph death year added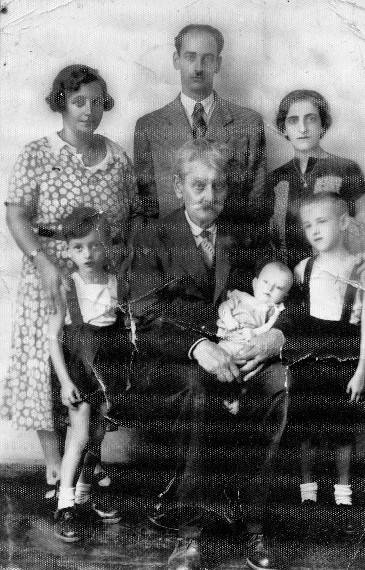 Albert von Roggenbucke and part of his family in 1940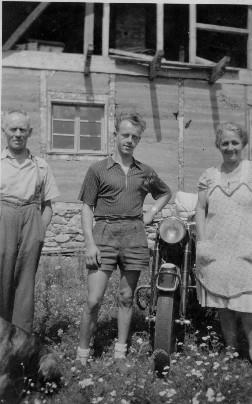 Hans Altenweisl, his son Anton and his wife Josephine von Roggenbucke in approx. 1955.
---




---
Copyright© 1996-2018 Jonny Roggenbuck
Created 05-01-2002
Last revision 14-03-2018